As you
may have read
, we have been having a hard time conceiving for 3 years now. We finally decided to move forward with doing IUI in June. A couple weeks of monitoring via bloodwork & ultrasounds, a mock IUI where they do the procedure with saline, some extra hormones, a trigger shot in my butt, and we got our date for the procedure: July 1.
We kept the news close to our chests; a few friends knew it was happening, our pastor so he and his wife could pray with us, and while our parents knew we had started the monitoring, they didn't know when the procedure was going to be. Of course I clung to the absurdity that my pregnancy still needs to be a surprise 3 years in to trying.
The actual procedure went beautifully. In fact, as I was splayed out on this table with my feet in stirrups while a really nice doctor inserted a catheter into my uterus, I heard a familiar tune over the PA.
Do you know what it was?
"2 Become 1" by the Spice Girls.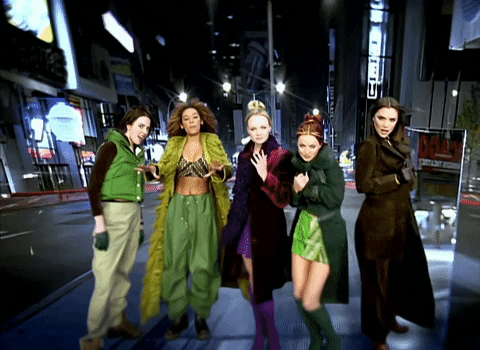 "I need some love like I've never needed love before..."
I busted out laughing because it seemed so absurd. My husband over my shoulder holding my hand, this nice doctor in my foreign territory, a nurse in the corner, and the Spice Girls crooning about an intimate encounter. It was too much. As I was laughing, I pointed out the hilarity of the situation and the Bearded Wonder and I both giggled. The nurse and doctor smiled along pleasantly but clearly didn't appreciate the irony like we did.
I took it as a good sign that this was going to work. I know it's silly, but there's something about Spice Girls and I having a weirdly impactful moment while I underwent this scary and exciting process that made me feel like this was going to be it.
The procedure was over in less than 10 minutes, thankfully. I was instructed to lay on the table for 10-15 minutes and just let nature do it's thing, so the Bearded Wonder and I talked about what this could mean. Dreamed about telling our parents and our friends the good news. I kept a slightly cynical approach because it's what I do. Pro-tip: If you set the bar low, then you can't be terribly disappointed when something doesn't work.
The next 2 weeks were understandably nerve-wracking. I was on extra hormones to help it "stick", so my insomnia wrought havoc on my body. I cried at literally everything. The Bearded Wonder was being silly and would pat my stomach sometimes and say things like "Hi Little One- that was your first taco!". I laughed him off because it was so goofy, but I was also really appreciative that he was so hopeful when I just couldn't be. I've seen too many negative pregnancy tests to be
too
hopeful.
We had our follow-up bloodwork to see if it worked at 7:45am on Wednesday, July 15th. I had a full panic attack the night before thinking about this. I was hopeful but still didn't trust it. Hopeful but still not believing it would happen based on past experience. In the morning I woke up at 6am feeling peaceful and ready to face the day.
Bloodwork went smoothly. The nurse was kind as always. She said she was crossing her fingers for us. The next 4 hours I was still an anxious mess. My chest hurt, my stomach was in knots. I choked down a bagel just for something to be in my stomach.
The call came at noon. The nurse was kind but apologetic as she said "I'm sorry to say I'm not calling with good news."
"Damn," I said softly. The Bearded Wonder held on to me tightly as tears started to pool.
"Damn." The first word to come to my mind.
She let us know what our options are moving forward, and in less than 90 seconds my heart shattered into a thousand tiny pieces. In retrospect I was more hopeful than I let myself believe: I had thought about how to tell this person or that one, allowed myself to look on Pinterest occasionally at baby stuff, imagined the Bearded Wonder holding our tiny baby in his manly man arms... I hoped. I really did.
I know that we're meant to be parents, whether through medical intervention or adoption. It will happen for us, and probably sooner than I feel like it will. We've already decided to move forward with a second round of IUI, but for now we're just grieving what isn't.
xo
A Redhead