One thing I know is that diet actually IS a ginormo part of losing weight. When I say "diet" I don't mean the Jenny Craig factor; I mean what you eat and how much of it on a regular basis. If I work out and burn 400 calories but then eat 1000 calories of food "because I can", that's still 600 calories of extra food.
And I said I can't do math.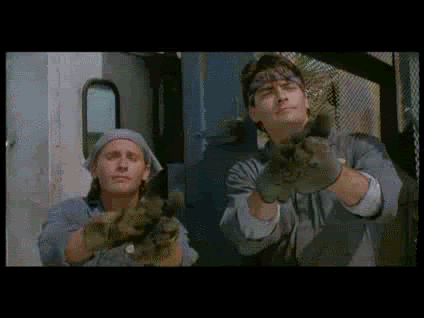 Give the girl a medal!
So some more things I'm learning…
It is OK to eat ice cream.
Heck, it's OK to eat french fries.
The important part here is moderation. If I know I'm going to eat ice cream, or if I decide on a whim that I want some FroYo in the afternoon, then I'll cut back in other places. I'll eat a healthier dinner, or more importantly, I'll eat smaller portions of ice cream. If I grab a tiny bowl that holds ~½ a cup of whatever, and I fill it up, then hot dog look at me eating a FULL bowl of ice cream!
I don't know if this simple trick works on anyone else, but home girl here feels like a million bucks polishing off a bowl of ice cream that's an actual proper size. Especially since I used to pound back pint after pint in my youth.
If you're desperate for french fries, get the kid's size. You don't need anymore than that, pinky promise. I know for me after awhile it's less about the taste and more about finishing the container. If I get a large order though, you bet your sweet bippy I will lick that container clean. (Not literally, that's just gross…)
Because of my past struggles with weight loss and body image in general, I have a really difficult time accepting that junk food sometimes IS ok. I'm not suggesting you eat a kid's order of fries every day, because I feel like that would still be counter-productive. But if you want to splurge on a Tuesday afternoon and get a tall Frappuccino from Starbucks™, then do it! But get it sans whip and with nonfat milk. Add a shot of espresso and you've got a tasty treat with a few less calories. =)
Lesson here: There's no "quick fix" to losing weight outside of surgery. Even those results aren't permanent if you don't learn that diet and exercise are key. It's a process, but would you rather start now or kick yourself later for not starting sooner?
This is one of the pics posted on my vanity mirror.
<3 A Redhead
Disclaimer: I'm not a nutritionist or trainer. I'm not pretending to be any sort of expert with diet and exercise; I'm just babbling about the things that do and don't work for me.